Custom Cable
Custom Stranded proprietary cable products.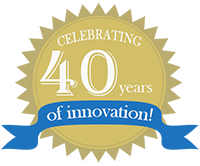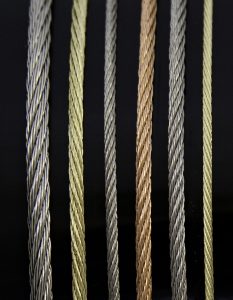 It's in our name; at Jersey Strand & Cable, we manufacture cable. We like to define cable as: multiple strands that are laid together helically and symmetrically arranged in multiple layers with uniform pitch or lay.
Essentially, cable is a thick, strong wire rope made up of multiple wire strands twisted together. Because of its construction, you may often hear people refer to "cable" and "wire rope" interchangeably.
Cable has countless uses. Among the most popular include:
Pushing and pulling

Lifting

Suspending

Hanging

Securing

Mooring

Tie-down

Reeling
Winding

Rotating

Supporting

Connecting

Braking

Controlling

Restraining
Our Custom Cable
We offer a wide variety of custom cable products, including but not limited to:
Braided Wire

Decorative Cable

Small Diameter Cable

Wire Rope Cable
Learn about our custom cable products, including small diameter cable for medical snares, and cable for guide wires, here.
Our size capabilities for cable products range from .006" TO 1/8" finished cable diameter.
Custom Cable Materials
At Jersey Strand & Cable, we have at our disposal many different potential cable materials, including:
Stainless Steel (corrosion resistant and strong)

High Carbon Steel (very strong)

Brass Plated Steel (strong, adheres well to rubber)

Copper Clad Steel (strong, conductive)

Pure Nickel (heat resistant, corrosion resistant, magnetostrictive, electrically resistant)

Nickel Alloy (heat resistant, corrosion resistant, electrically resistant)

Copper Alloy (electrically conductive, high tensile strength, creep resistant, corrosion resistant, ductile)

Tin Copper (oxidation resistant)

Hastelloy C276® (exceptionally corrosion resistant, chemical resistant)

Titanium Alloy (extremely tough and strong, temperature resistant, corrosion resistant)

Aluminum Alloy (cost-effective, lightweight, high strength-to-weight ratio, highly conductive)

Various exotic metals
We can also create cables with different materials that feature a mix of ferrous and non-ferrous wires, and metal and non-metal elements (plastics and man-made fibers).
Our Custom Cable Design Process
When you reach out to us with a custom cable request, we begin by gathering information on your application that will help us develop an action plan for you. We assist in several important aspects of your cable design, including:

Material selection

Product packaging (important determining factor in processing speed)

Electrical Resistance Requirements
Load Requirements
Once we have discussed your specifications, requirements, and the details of your preferred packaging with you, we begin designing your custom cable. During this stage, we determine details like:
Construction

Cable length

Strand diameter

Strand number

Strand lay 
Next, we like to provide you with a sample prototype that you can take and test. During your evaluation, we request that you take note of any issues you have that require our attention. After a predetermined amount of time, our development staff will follow up with you. Based on your evaluation, we will adjust our design and/or manufacturing process.

Once we know for certain that you are completely satisfied and happy with our product design, we move on to the final determinations of price and expected delivery date. Our sales staff determines price and delivery date based on the materials we use, the number of cable products you request, and our delivery schedules.
By taking such a thorough and regimented approach to our custom design process, we make sure that you receive from us only the highest quality products.
About Us
Jersey Strand & Cable offers our customers over 40 years of innovation. With two locations in New Jersey, USA, we are a premier supplier and manufacturer of wire strand and cable products worldwide.
We are passionate about creating high-quality custom solutions. To that end, we work with state-of-the-art equipment and innovative thinkers, and carry a diverse range of strand and cable materials.
We can't wait to work with you. To start collaborating with us, reach out to us via email, phone, fax, or our online Request a Quote tool.
Thanks!
Contact Us about our Custom Cable!